2020 NHL Draft
2019 Four Nations Tournament (August)
Steve Kournianos  |  08/28/2019 |  Nashville  |  [hupso]
NASHVILLE (The Draft Analyst) — The first major under-20 hockey tournament in Europe took place last weekend in Sochi, Russia, where several of the NHL's top prospects and future draft hopefuls competed against one another. Although Sweden and Finland sent stronger rosters to last month's U20 World Junior Summer Showcase, both nations, along with the Czech Republic and host Russians, were able to ice lineups filled with some of Europe's more notable teenage players.
---
#U20: More Amirov from Friday as he picks a pocket and comes away with room, but credit to #23 white RHD Simon Kubicek (2020/2001) for staying with Dmitri Voronkov and making him pay for trying to establish net-front presence. Wins the battle and doesn't get called for a penalty pic.twitter.com/C9vDDVaI6f

— Steve Kournianos (@TheDraftAnalyst) August 26, 2019
---
The deepest collection of talent heading in to the competition belonged to the Russians, whose top line of Grigori Denisenko (Florida Panthers) and Vegas Golden Knights prospects Ivan Morozov and Pavel Dorofeyev, dominated possession and carried Russia's attack in each of the three matches. The trio combined for 10 of the 18 points recorded by Russian players, but even their best efforts in the final game against Finland wasn't enough in what became a 4-2 loss. Also of note was the play of two-way wingers Vasily Podkolzin (Vancouver Canucks) and Kirill Marchenko (Columbus Blue Jackets), who were excellent on the forecheck and created multiple scoring chances while shorthanded.
Finland sandwiched a 6-5 overtime win over Sweden and victory versus Russia with a 4-2 loss to the Czech Republic. The Finnish attack was paced by swift winger Samuel Salonen and Arizona Coyotes prospect Matias Macceli, and defenseman Santeri Hatakka (San Jose Sharks) and Severi Immonen (2020 Draft) led the way with three goals apiece, including the game-winning markers in the wins over Sweden and Russia, respectively. In goal, Kari Piironen stopped 32 of 34 shots against Russia after Jasper Patrikainen was beaten for 10 combined goals in the two previous matches.
The Czech Republic iced a formidable roster that boasted five NHL draftees and three notable prospects in their first year of draft eligibility. After being humbled by the Russians in a 4-1 loss in the opener, the Czechs bounced back with consecutive wins thanks to solid goaltending from 2020 draft prospects Jan Skorpik and Daniel Dvorak. Skorpik posted a 24-save effort in a 4-2 win over Finland of Saturday, and Dvorak turned aside 29 shots in Sunday's 4-1 victory over Sweden. Up front, a pair of 2001-born undrafted forwards in forwards Martin Lang and Filip Prykril were the most dangerous Czech in all three games, while Boston Bruins speedster Jakub Lauko was difficult to contain and used his speed and physicality to create time and space for his teammates.
The tournament's lone nation with a losing record was Sweden (0-2-1), who dropped a pair of one-goal games before wrapping up their weekend with a loss to the Czechs. Few Swedish forwards were consistent in their ability to generate offense, but Vancouver Canucks prospect Nils Hoglander had several instances where he flashed his high-end puck skills and vision. Also impressive was the two-way play of top-line center Nils Aman, who was a key cog on the power and penalty kill.
#U20: RHD Aleksi Matinmikko (2020/2000) with another smart rush. This one during a line change after a lengthy Finnish possession. Easily could have skated it back or dumped it in, but chose to attack with speed instead. Overager or not, it's a smart play if you have the wheels pic.twitter.com/m8xGZiKZYR

— Steve Kournianos (@TheDraftAnalyst) August 27, 2019
Russia - RW Rodion Amirov (Tolpar, MHL - 2020 Draft Eligible)
Name:
Rodion Amirov
Position: Right Wing
Shoots: Left
Height/Weight: 6'0, 168 lbs
Born: October 2nd, 2001, Russia
2019-20 Commitment: Tolpar, MHL
Summary: You'll be hard pressed to find a quicker set of hands among 2020 draft prospects than those belonging to Amirov, who is shifty and incredibly well-balanced for a winger listed under 170 pounds. He spent most of the tournament on the third line, where he was a possession fiend who used quick reflexes and proper anticipation to regularly create turnovers off the forecheck. Amirov is very confident with the puck, and his quick first step seems to be in concert with his processor, as he rarely skates himself into an untenable situation. Although he has excellent agility and executes rapid 90-degree directional changes, Amirov seems most comfortable controlling the puck along the boards, where his aforementioned balance and quickness are enhanced by a strong leg drive and keen vision. Simply put, Amirov is a horse along the boards, but one who does not exert energy on the front end, only to run out of gas and relinquish control of the puck. Rather, Amirov can control the puck for lengthy periods, and he absorbs contact as if he were 20-30 pounds heavier. His cycle game is on point, but Amirov also knows when to slip away from the scrum with the hammer cocked. Russia rarely allows a 17-year-old to participate in the summer under-20 events, but his play in Sochi at the Four Nations should have been strong enough to warrant consideration for the CHL Super Series in November, and subsequently the world junior championship the following month.
Finland - LW Samuel Salonen (Pelicans U20, Jr. A SM-Liiga - 2020 Draft Eligible)
Name:
Samuel Salonen
Position: Left Wing
Shoots: Left
Height/Weight: 6'2, 198 lbs
Born: March 22nd, 2000; Vantaa, Finland
2019-20 Commitment: Pelicans U20, Jr. A SM-Liiga
Summary: A double-overage, thick-framed winger who has distinguished himself during the summer international circuit, Salonen tied Vegas prospect Ivan Morozov for the tournament scoring lead with two goals and four points in three games. From net-front presence to primary puck handler during an offensive-zone possession or odd-man rush, Salonen can fill a variety of roles and handle multiple responsibilities during a given shift. He likes to handle the puck as much as possible, but he also recognizes the proper time to feed the points for chances rather than simply getting rid of the puck to save himself from trouble. Salonen is quick for his size, and his first step and powerful stride helps him generate top-speed relatively quickly. Thus, he gets a fair amount of odd-man rushes and breakaways, and his hands are soft enough to cleanly handle tough passes or centering feeds from in close. Salonen is not just a finisher, however, as he saw the ice very well in all three zones while his passes from either forehand or backhand varied from cross-ice saucer to crisp feeds into the low slot. This makes him difficult to predict, especially behind the net, where he can make a quick move to the front while using his sturdy frame and leg drive to ward off harassing opponents of all sizes. He also played on Finland's top penalty-killing unit and used his speed and reach to cause problems for opposing defenders.
Finland - RHD Aleksi Matinmikko (Assat U20, Jr. A SM-Liiga - 2020 Draft Eligible)
Name:
Aleksi Matinmikko
Position: Defenseman
Shoots: Right
Height/Weight: 5'11, 176 lbs
Born: March 6th, 2000; Vantaa, Finland
2019-20 Commitment: Assat U20, Jr. A SM-Liiga
Summary: A fantastic skater in all directions, Matinmikko does not hesitate to turn quickly immediately upon retrieval and exit the zone cleanly, and his evasive manuevers begin with a lightning-quick first step that consistently caught opposing teams in a line change. Matinmikko attacked openings at top speed with regularity, and his writer from the circles on several occasions led to juicy rebounds towards the far side or low slot. More times than not, he was able to quickly process his options, and his decisiveness led to immediate transitions to other way. On one occasion, Matinmikko revealved excellent balance and strength on the puck as he turned a defensive-zone draw into an instant counterattack to other way.
Finland - RHD Axel Rindell (Jukurit, SM-Liiga - 2020 Draft Eligible)
Name:
Axel Rindell
Position: Right-handed Defenseman
Shoots: Right
Height/Weight: 6'0, 176 lbs
Born: April 23rd, 2000; Espoo, Finland
2019-20 Commitment: Jukurit, SM-Liiga
Summary: Another Finnish swift-skating puck mover who can run a power play and use his speed and agility  to outlast pressure, Rindell was a fixture with the man advantage and was consistently keeping his feet moving in order to get open and bring his heavy one-timer to bear. He's a converted forward, so his one-on-one play and coverage during cycles is a work in progress. Having a quick first step and confidence in his puck-carrying abilities, however, led to multiple clean breakouts, but he also is poised under pressure and utilizes the boards to quickly trap an overzealous forechecker. If he decides to rush the puck, Rindell will maintain possession through all three zones and slow things down when he's outnumbered and high options for puck support haven't caught up. Rindell plays with his head up and has very good vision, and he'll exploit lazy stickwork with precision cross-ice passing. More finesse than physical, Rindell can easily be classified as an offensive defenseman, and he could be a surprise add to the world junior squad if his dominance of the Jr. A SM-Liiga or solid play with the parent club carries well into midseason.
Finland - C Severi Immonen (Kalpa U20, Jr. A SM-Liiga - 2020 Draft Eligible)
Name:
Severi Immonen
Position: Center
Shoots: Left
Height/Weight: 5'11, 165 lbs
Born: June 21st, 2000; Tuusniemi, Finland
2019-20 Commitment: Kalpa U20, Jr. A SM-Liiga
Summary: A top-line center throughout the tournament, Immonen displayed heady two-way play and a solid work ethic in all three zones. He developed instant chemistry with his wingers, specifically New York Rangers' prospect Leevi Aaltonen. Immonen is very smart with the puck and seems to communicate with his linemates on the ice and also on the bench, and his lead or chip passes during the breakout were well-timed and effective. He has above-average speed and was able to keep pace with Aaltonen during odd-man situations, but Immonen is more cerebral and calculated than flashy and fast. He had multiple examples of making a sound defensive play on one end, only to jumpstart a counterattack that developed into a scoring chance or lengthy possession.
Sweden - LHD Jakob Bondesson (Rogle, SHL- 2020 Draft Eligible)
Name:
Jakob Bondesson
Position: Lef-handed Defenseman
Shoots: Left
Height/Weight: 6'2, 198 lbs
Born: May 22nd, 2002, Kristianstad, Sweden
2019-20 Commitment: Rogle, SHL
Summary: A big, rangy puck mover who did well under pressure, Bondesson is a quick outlet passer who delivers the puck right on the tape. He's got good size and a long reach to help him cover the area near the net, but he also will battle hard and deliver effective shoves to knock an opponent off balance. Bondesson isn't necessarily married to the slot, and his quick feet allow him to immediately react to reverses and pounce on the puck as high as the points. He finishes his checks and is difficult to outmaneuver as long as he locks in on the puck, which he does quite frequently. Keeping a tight gap and wielding an active stick make him tough to beat in open ice, and Bondesson makes timely step-ups to break up entries at his own line. He didn't see much time on the power play but was a mainstay on the penalty kill.
Czech Republic - RHD Simon Kubicek (Seattle, WHL - 2020 Draft Eligible)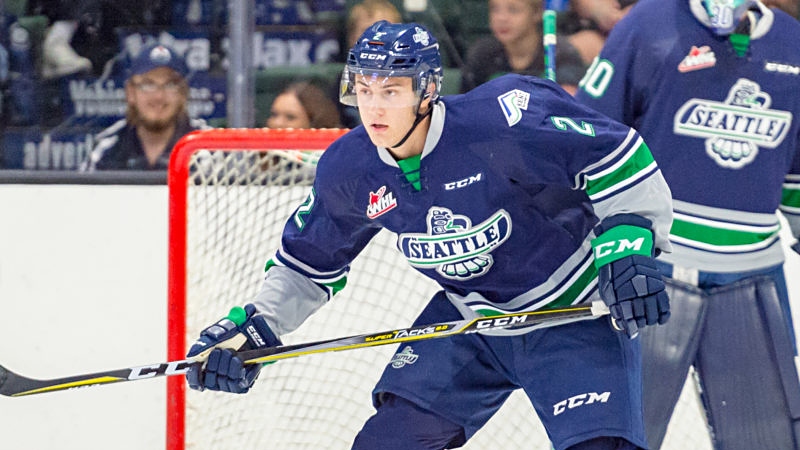 Name: 
Simon Kubicek
Position: Defenseman
Shoots: Right
Height/Weight: 6'2, 198 lbs
Born: December 19th, 2001, Jindrichuv Hradec, Czech Republic
2019-20 Commitment: Seattle Thunderbirds, WHL
Summary: An intelligent defenseman with physicality and a no-nonsense approach to puck moving, Kubicek was one of the more consistent Czech defenders in keeping the crease clear and battling hard in the corners. His one-touch passes were mostly accurate; his decision-making upon retrieval was sound, and his average speed did not limit his opportunities to carry the puck himself. Kubicek is not very creative with the puck, and if it's on his stick at the right point, it either gets dumped back down low or fired quickly on net. He owns an above-average shot that is generally kept low, and he uses a big wind up in order to create rebounds on the power play. If he's in haste, Kubicek accurately whips pucks on goal from long distances with little to no backswing.
Czech Republic - RW Adam Raska (Rimouski, QMJHL - 2020 Draft Eligible)
Name: 
Adam Raska
Position: Right Wing
Shoots: Right
Height/Weight: 5'11, 170 lbs
Born: September 25th, 200, Frydek-Mistek, Czech Republic
2019-20 Commitment: Rimouski Oceanic, QMJHL
Summary: A rugged winger with an advanced processor that helps him mix a heavy game with sound positioning and anticipation, Raska was his typical, physical self in Sochi, using his strength and hard-hitting style to compliment his open-ice game with the puck.  He's a quick skater for a physical winger, and he can accelerate to top speed within three of four strides. He and Jaromir Pytlik have played on the same line at several under-18 events, and at the Four Nations they did well in the cycle game in the opener against the Russians. One thing you can always count on from Raska is his effort — he will skate full bore from wall to wall in order to maintain pressure on the puck. Route-taking is an often-overlooked aspect of a forecheck, but Raska takes the proper inside-out route and rarely overcommits to one side unless he knows support is there. Granted, you would have liked to see more offense (1 assist in 3 games) from one of the top prospects the Czechs will provide for the coming draft. But Raska's 200-foot game was consistent, and his physicality impacted shifts that led to scoring chances. He absolutely walloped Devils prospect Daniil Misyul in the Russia game after the latter took liberties on Czech forwards.
Czech Republic - C Jaromir Pytlik (Sault Ste Marie, OHL - 2020 Draft Eligible)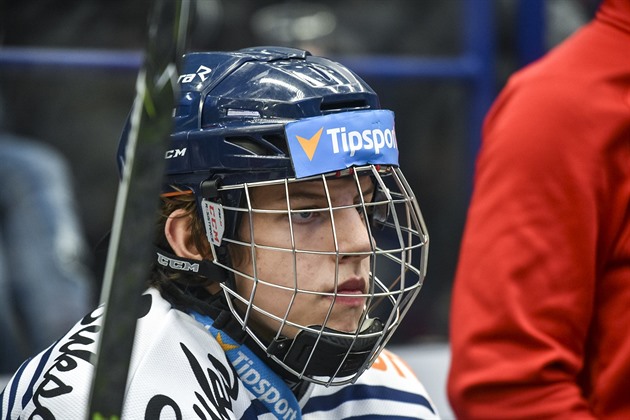 Name: 
Jaromir Pytlik
Position: Center
Shoots: Right
Height/Weight: 6'3, 196 lbs
Born: September 25th, 2001; Dacice, Czech Republic
2019-20 Commitment: Sault Ste Marie Greyhounds, OHL
Summary: A responsible two-way center who is a workhorse along the boards, Pytlik assumed his customary role as a top-six center and primary puck distributor during offensive-zone possessions. He may not have an explosive first step or blow past defenders in open ice, but Pytlik's anticipation, stick positioning and quick hands play a huge role in his ability to create turnovers in the neutral zone to quickly transition the other way. Pytlik is nimble for size, and his adherence to defensive-zone responsibilities and an overall understanding of the game help him execute hinge plays with his defensemen during breakouts. A common used cliche for bigger forwards is "protects the puck well", but Pytlik was consistent in maintaining balance and control as he took the puck into the middle of the ice for clean looks at the net. He makes accurate passes down low off the curl, but he also slings a heavy wrist shot, even if overextended or off-balance.